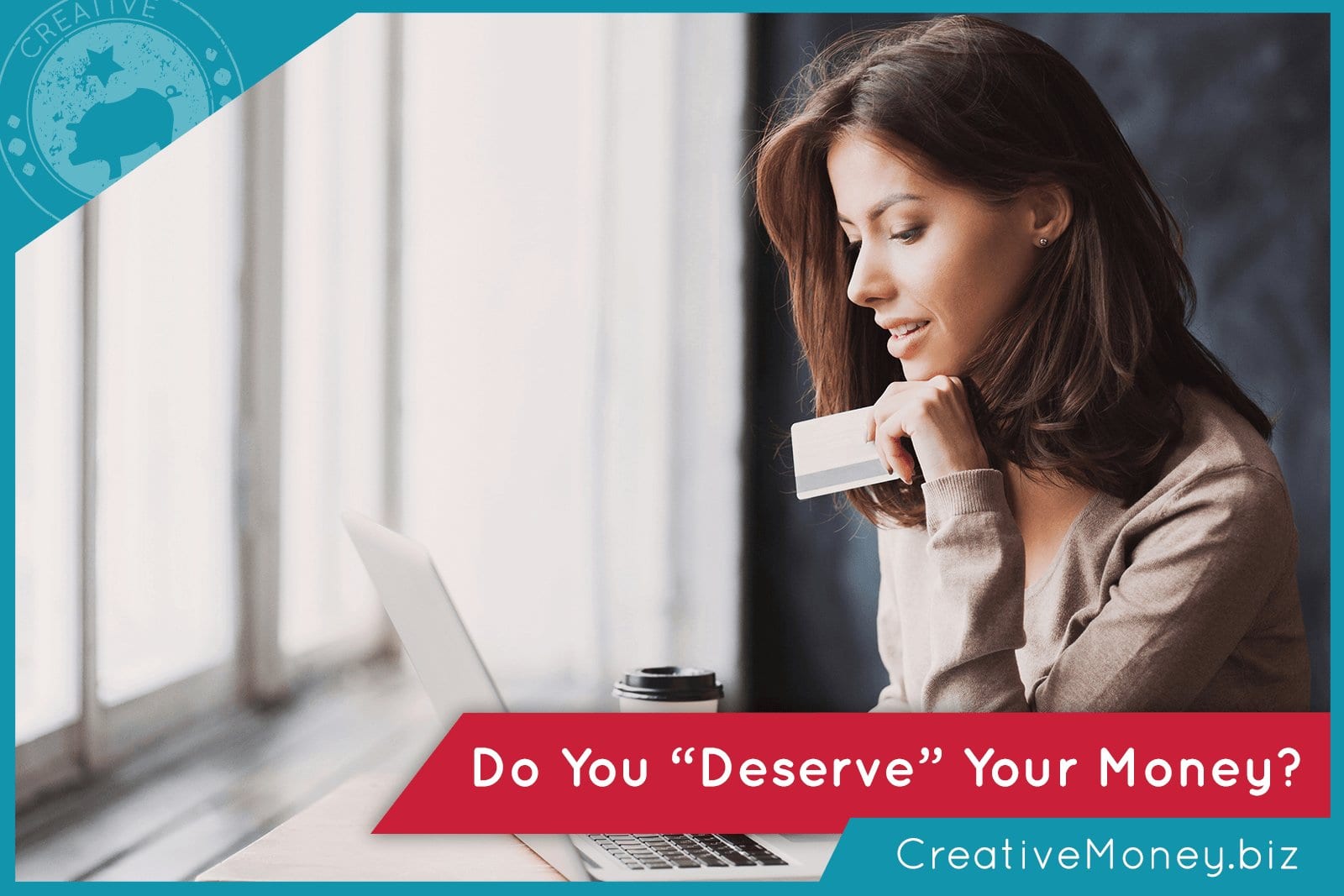 Deserving money is a mindset thing that messes people up more than anything.  When you're used to putting yourself last, or when you think you have to work hard to receiving everything you get, you might reject money if it comes to you too easily.
Sometimes, we're afraid of being judged for how we spend our money…you might believe one person is more deserving of money because of their character, life or circumstances.
I also see deserving issues with entrepreneurs who don't charge what they're worth, raise their rates, or go after the sale because they may not feel deserving of putting their needs ahead of someone else's needs.
The point is, there is no ultimate yardstick or criteria to decide who deserves money – we ALL do. But depending on how you feel about that will dictate if you can hold onto it.
I myself had a problem with my deserving mindset for a while, though I didn't immediately recognize it.  I was doing all kinds of crazy things that felt like "giving" to me:
Buying a house hoping it would bring my loved one and I closer

Covering for happy hour drinks for my trainees multiple times per week

Signing over my commissions to a colleague who was having a particularly hard month

Paying for a friend's divorce attorney

Traveling around the country on my own dime to shadow a (crappy) mentor

Giving away thousands of dollars to friends who "needed" my help
In fact, I was trying to exert control over the situation with my money — which was obviously never going to work.
It was a pattern of trying to get things from other people that I wasn't giving to myself.  That's a huge imbalance!
Can you put yourself first?
I realized very quickly that I could never give a loved one money and get what I needed from them.  But, I could get what I wanted if I made sure my needs were met – then I had more energy to give to other people.  Not more money, but give of myself (my help, my support, my love).
If you think you might have an issue with a deserving mindset, ask yourself, how often do you put yourself first?  Do you see that as selfish, or simply getting your needs met?

If you feel undeserving, or if you feel like you always need to put others' needs ahead of your own, you might be trying exert control in other ways–to get back what you're putting out there.
You might notice:
Having money spats with your partner? What are you (and they) really trying to control?

If you're more comfortable giving than receiving, what makes you feel out of control about receiving?

If you don't feel confident charging what you're worth or raising your rates, are you trying to control whether people say yes or no?
Once you've identified the root cause, you can start to work to change it.  Practice letting go of control and observing the abundance that flows into your life naturally.  You could start keeping a list of times you feel abundant and prosperous.
Create a mindset practice
We know that mindset plays a big part in how we approach money, but the only way you will change things is with a plan.
Write down the behaviors you would like to change and one action you can take toward changing them.  If you feel guilty about spending money, treat yourself — even if it's something small.  If you are trying to control a situation with money, ask yourself if it's even possible to control that thing.  If you're afraid of asking for more money, do it in baby steps: raise your rates by $25 the next time you get three paying clients.
Whatever it is, you need to take small steps toward the larger goal of getting that mindset of deserving, receiving, enjoyment and pleasure flowing in your life again.
There are plenty of mindset resources in my free library – check it out!
P.S.  2018 Awesome Goal Planners are here!  Two versions, one for individuals and a second for entrepreneurs – get those here.