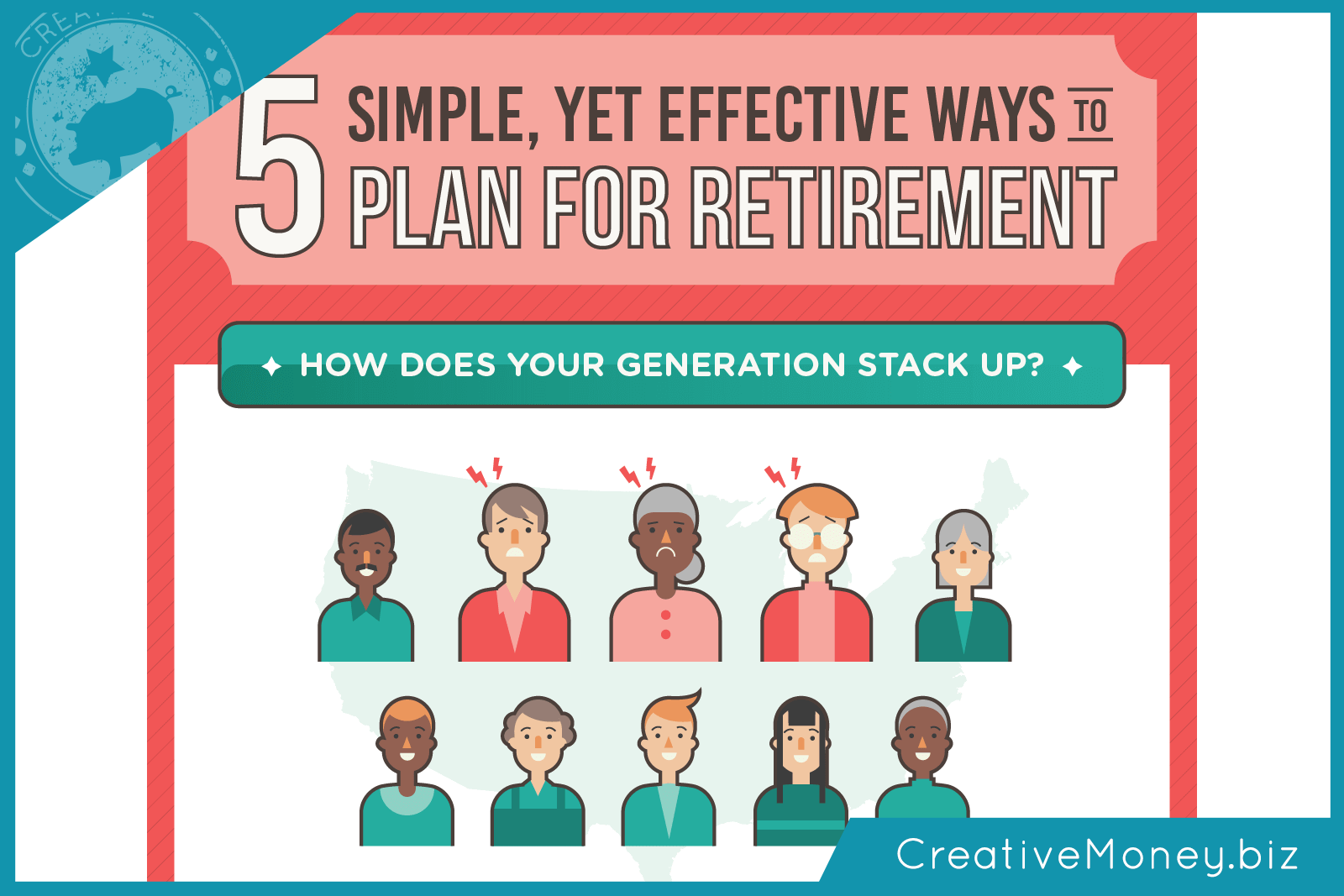 This is a guest post (and guest infographic!) from blogger and personal finance writer Garth from CreditLogin.  I like his post because 1) I love me some infographics, and 2) he is talking about something that I discuss A LOT with my clients, but rarely focus on in my blogging: RETIREMENT (BTW you should also read his blog because he has really turned things around for himself financially from where he started!).
Do you think about saving for your retirement?  Many think about saving, and then put it off until later to address other more important, short term issues.  Weeks, months, and then years go by, and you keep thinking you'll start saving for retirement when you have more money (but guess what?  There's probably not going to be more money later).  Before you know it, you have a bad case of the "tomorrow's" that never get here.
The first step is realizing how easy it is to start saving for your retirement.  There are small things you can do that make it easy to take the first step, and then the next…all the way to great habits that create savings for your future.
Start small with the easiest step
The sooner you start saving, the more it can grow for your future.  You want to be earning compound interest, which is interest earned on the amount you save plus the interest that money earns.  Over time, compound interest will go to work for you.  An interest-earning savings account is easy and something you can start right away.  You can even have regular payments taken out of your paycheck, so with a little time, you won't even miss it.  Do you realize that for every ten years you wait, it will take at least three times as long to catch up?
Be realistic about your financial needs
It's impossible to know exactly how much you need for retirement.  There are retirement calculators out there that can help you get an idea, but it also depends on how long you live.
(Note from Mindy: Those calculators drive me INSANE.  A financial planner like moi gives context to this very confusing area)
Amazingly, only about 20 percent of the American population has a solid grip on how much they will need for their retirement.  It's estimated that about 40 percent believe they will need $500,000, which is actually about $250,000 or more short of the average cost of retirement today.
The 3 P's to stick to – plan, prioritize, protect
Plan: To reach your retirement savings goals, you need a plan.  You can create a plan yourself, but it's so easy to lose sight of that plan.  Maybe ask Mindy for a consult to do some planning!
Prioritize: Financial planners are great to work with for a couple of reasons.  First, they specialize in making sure all of your financial areas are coordinated, so you're not missing anything; and second, they can help you follow through realistically with your plan by helping you prioritize your financial needs and goals.
Protect: You also need a plan to protect your retirement savings for those times when something happens – that's why you need to balance retirement savings with regular savings for life's emergencies.
Employer-based plans
An easy and effective way to start saving for retirement is to take advantage of company-sponsored retirement plans.  Your company's human resource office can help you sort through the details of their retirement benefits package.  Most companies have some form of retirement benefits, so don't pass it up, especially if they offer matching funds (free money)!
There are no stupid questions
When planning for your retirement, there are no stupid or silly questions.  Many people do not understand how the different retirement plans work, so ask questions.  Some companies have retirement programs that workers only benefit from when they seek it out.  If you don't ask questions, you could miss out.
Below is a helpful retirement infographic, which contains more insightful data on retirement. Check out how your retirement savings compare to your peers and against other generations.

Presented by Creditlogon.com