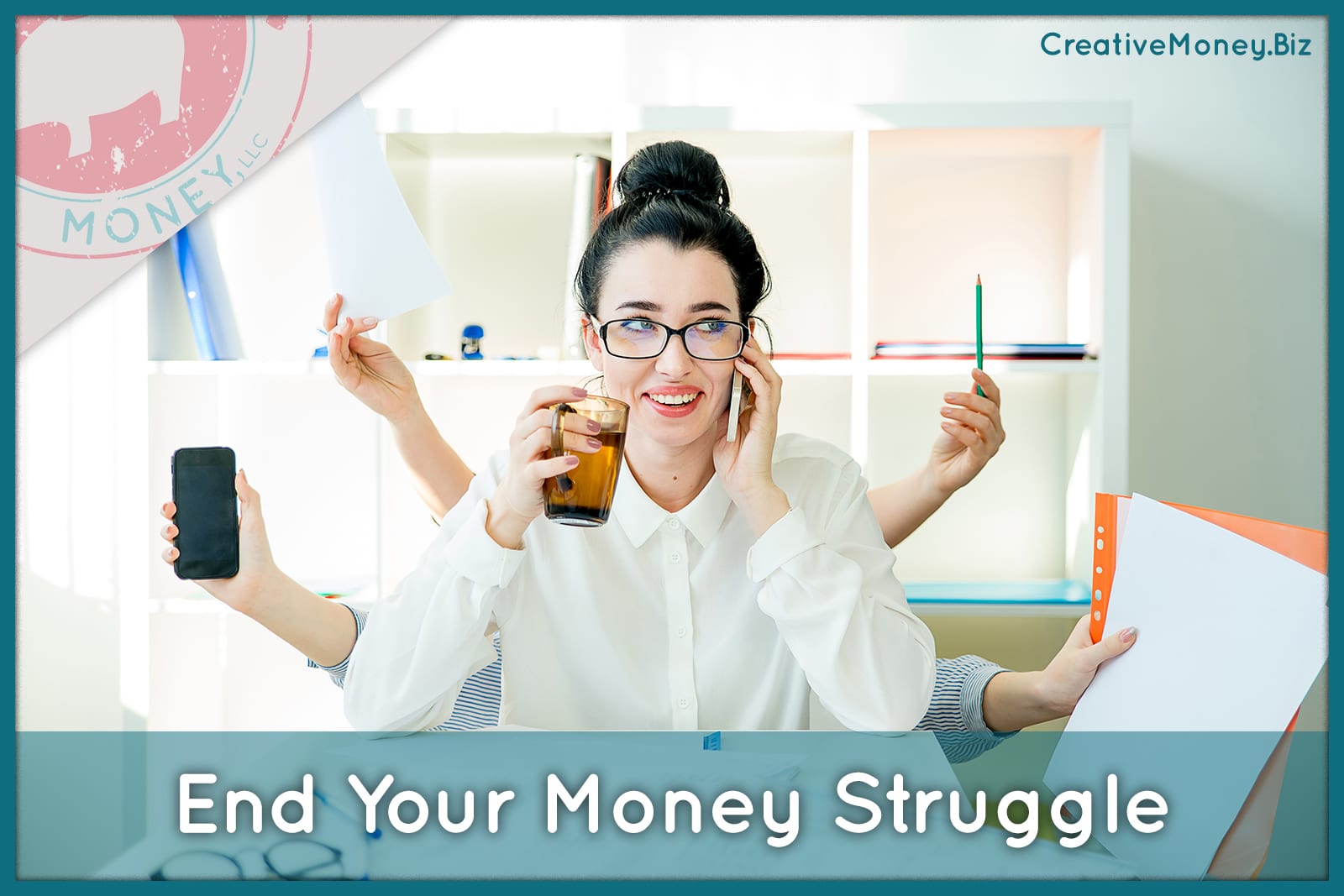 What does struggling with money look like?
If you're constantly confused by money, stressed over money, playing catch up with money, uncertain about it, feeling guilty about it… They're all signs that you're likely having some money struggles. And unless you get a handle on your anxiety, it will continue to rule your financial life. Even people who have plenty of money can find themselves in a struggle with it. Even those who aren't living paycheck to paycheck, who don't have crushing debt, who have built a comfortable amount of savings — even people in a relatively good position with money can still feel anxious about it.
And it's a lot more common than you might think.
When I was going through tight financial times, I wished daily for a relationship with money that sustained me, instead of needing to work constantly to sustain it. I recently had an incident that reminded me of this. I experienced a setback (business related, but not money related, which is how I console myself that I initially didn't see the connection) and I found myself thinking, "Why do I have to remain CONSTANTLY vigilant to make sure my business is on track?" I was frustrated, irritated, and really feeling my inner Tyrannosaurus Rex (RAWR! I will lay waste to all that I see! RAWR!).
But doing that was about as effective as T. Rex flapping his tiny arms ineffectually.  I could roar all I wanted to about it, but that wasn't going to fix the problem. I realized that I was definitely in a struggle mindset about my business.
If you're constantly confused, stressed, or playing catch up with money… They're all signs that you're likely having some money struggles. And unless you get a handle on your anxiety, it will continue to rule your financial life.
Click To Tweet
Reframe Your Situation
First, I had to stop myself and get grounded. We typically have enough basic awareness to TRY to assess what is REALLY happening, but often we forget to get our brains off of the Tilt O' Whirl of activity and just STOP. For me, I have to walk away from all electronic devices and get some fresh air.
Next, I asked myself, "What attachment did you have to this setback?" For me, success means that I am an intelligent, effective business person… But I didn't have a positive characterization for myself if my experiment wasn't successful, so I immediately jumped to TOTAL FAILURE, even though that's probably a bit extreme. When I calmed down, I realized that I am allowed, and indeed required, to make mistakes in order to continually improve.
Then I asked myself, "What is the personal growth opportunity?" An ongoing "growth opportunity" for me is preventing isolation. I was raised in a family where you worked alone and did everything yourself. My default is "alone," so my personal growth opportunity is ALWAYS collaboration and expansion. I realized that this setback probably wouldn't have happened if I had not tried to do it all alone and had asked for more support.
Finally, I asked myself, "What did you learn from this setback?" I learned that I was in "over-functioning, control freaky mode" trying to accomplish a set of business tasks, and that is NOT the kind of energy I want to bring to my business! And creating any tactics when I was in that headspace would not be effective.
Once I was able to reframe the experience, I felt a lot better about it, and I was able to start planning my next experiment to incorporate all of the elements that made this last attempt fail—collaboration, expansion, support, and the spirit of possibility—instead of attachment.
Use Your Money Struggles
So how can this be applied to money anxiety? I see the same dynamics happen when someone is having a struggle with money:
Overwhelm

– People are always trying to make money decisions when they ALREADY have 10 different things happening at once! Stop the merry-go-round and get off for a few minutes.

Attachment

– People starting thinking, "If I can't pay this bill now, the world falls apart." It actually doesn't, that is just your projection of what happens if things don't happen perfectly (and they never do). Instead, ask yourself, "Is that REALLY true? How can I know that it's true?" ala Byron Katie.

Personal Growth

– You are where you are because of WHO you are. Whenever you feel struggle, there is always an opportunity to examine if this is a recurring issue in your life and choose to change that dynamic and show up in a different, and ultimately better, way.

Learning

– The real world learning is what you can apply from your personal growth lesson. For some, it might be "never carry credit cards in my wallet," or " figure out ways to show up in a better way for my family and our money." You get to decide.
The key, though, is to be aware enough that you can identify that you are starting to spiral into anxiety. Only when you do that can you change that mindset — and therefore, your relationship to money.
If you're in the midst of a money struggle (or anything, really), consider these steps:
STOP everything

. You can't get clarity or feel better until you "reset" yourself back to the present moment. Go outside. Walk your dog. Dance to Earth, Wind and Fire.

Reinforce: NOTHING IS WRONG

. This current struggle is powerful information, about yourself and how you deal with issues. Lean into it. Be willing to take the lesson. But remember that the lesson does not make you a bad person, or doomed to failure.

Connect with a loved one.

I recently read Jenny Lawson's book Let's Pretend This Never Happened… First of all, I laughed so hard I cried, but secondly, it reinforced for me the power of having someone in your life who loves you NO MATTER WHAT. This is VERY beneficial when you're in the dregs of money anxiety.
If you're ready to eliminate money anxiety, I highly suggest you check out my free library and work through some of my workbooks (click here). It will help you get clear on what your values are around money — and that will help you work through any struggles you may be experiencing.