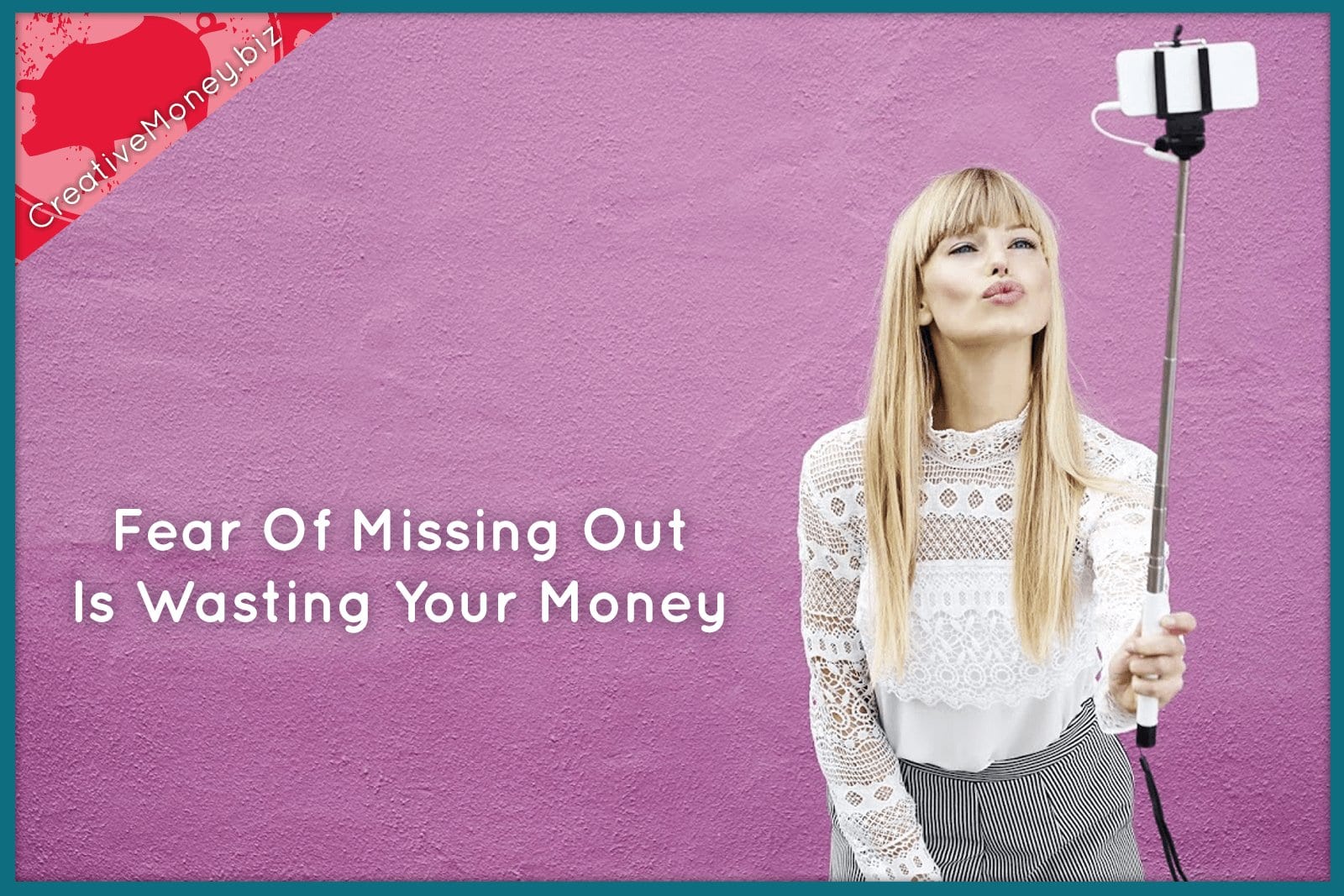 I've been talking to a lot of people lately who are experiencing serious "Fear of Missing Out" or "FOMO" about something.   Multiple people have expressed concern about missing out on:
Buying a home while real estate prices are still low (in Seattle, haha! Hang on, let me get my time machine and transport you back to 1990)

Buying a home while interest rates are still low

Buying a home because prices will never be this low again

Investing in a vacation or income property
Where does FOMO show up?
These all have to do with real estate, but I imagine there are other decisions, such as:
Buying a coaching program from someone because you're afraid it won't be offered again

Buying a thing (clothes, furniture, jewelry, car) because you're afraid you'll never see a deal this good again

Buying a thing (clothes, furniture, jewelry, car) because you're afraid you'll never see one you like as much

Buying a thing because you're trying to fix something

Overspending on children because you're afraid of limiting their experience.
And more than any other mistake I see, this is how to make money disappear from your life.
When faced with a decision like this, the best thing you can do is ask yourself: Does it support my chief money initiative?  Don't know what yours is yet? Download my free worksheet to discover yours for yourself.
Artification resource limitation
I have a term for this: it's called artificial resource limitation (I keep hoping it'll catch on like FOMO – you can say ARL!).  ARL means that the resource isn't actually limited, it's just that you perceive it to be limited—that's why the limitation is artificial.  
People mistakenly believe that if they don't act on this thing immediately, the opportunity will be lost forever.  And that means, they create the reason — the excuse, really — to spend money they haven't budgeted, or money they maybe don't even really have.
Of course, part of this may be true.  You might actually lose the opportunity to buy a specific home, lock in a rate or work with someone in a specific program.  But does that mean that your life is forever ruined? I'm going to say no.
This is all or nothing thinking at it's finest/worst. It's like when a dieter convinces herself she should have a slice of chocolate cake, because the restaurant specializes in chocolate cake and when will she be here again?  
The fact is, there will be other chocolate cakes — just like there will be other houses, other courses, other fabulous shoes, etc. But we convince ourselves that we have to be all in or risk getting nothing.  And that's bad for your diet and your budget.
Fear and buyer's remorse are not good reasons to buy
When I was buying my first home, I felt pressured to do because everyone was telling me, "interest rates will never be this low again!"  My interest rate on my first home mortgage? It was 8 percent.
When I was ready to move across town and buy my next place, I was told the same thing.  The interest rate on that mortgage was 6.5 percent.
Currently, rates are in the 4.5% range.  But if one of the reasons that you're considering home ownership right now is that you're afraid of missing out, then don't.  Fear absolutely should not be part of your decision criteria.
Artificial resource limitation will always give you buyer's remorse.  You will never be happy with a decision that was motivated by fear. Click To Tweet
You can't feel good about something you bought for your kid if you were afraid of him or her missing out.  You have to go into it, excited. When I talk to parents about private school, I ask, are you interested because it's going to build on your child's interests, or are you afraid they won't get into a good college otherwise?
Watch for the real motivator
I'm very optimistic: maybe you aren't supposed to buy a home now because in 2 years your income will have doubled and you'll be looking in a whole other price range.  Maybe your kid doesn't need private school because he's destined to be a saxophone prodigy (do they have those?). Maybe you aren't supposed to do this program now because you're going to get new information in 2 months that causes you to change direction.   Fundamentally, I believe that with good awareness and clarity over your values, everything will work out fine.
I'm always looking at not just the financial decision, but the motivation: is it fear or excitement?
So the next time you feel like buying something (or investing in something) for fear of missing out, ask yourself, do you have a case of artificial resource limitation? And if you're not sure, ask yourself, does this investment fit with my chief money initiative? If you haven't declared yours yet, click here to download my free worksheet and discover yours for yourself.