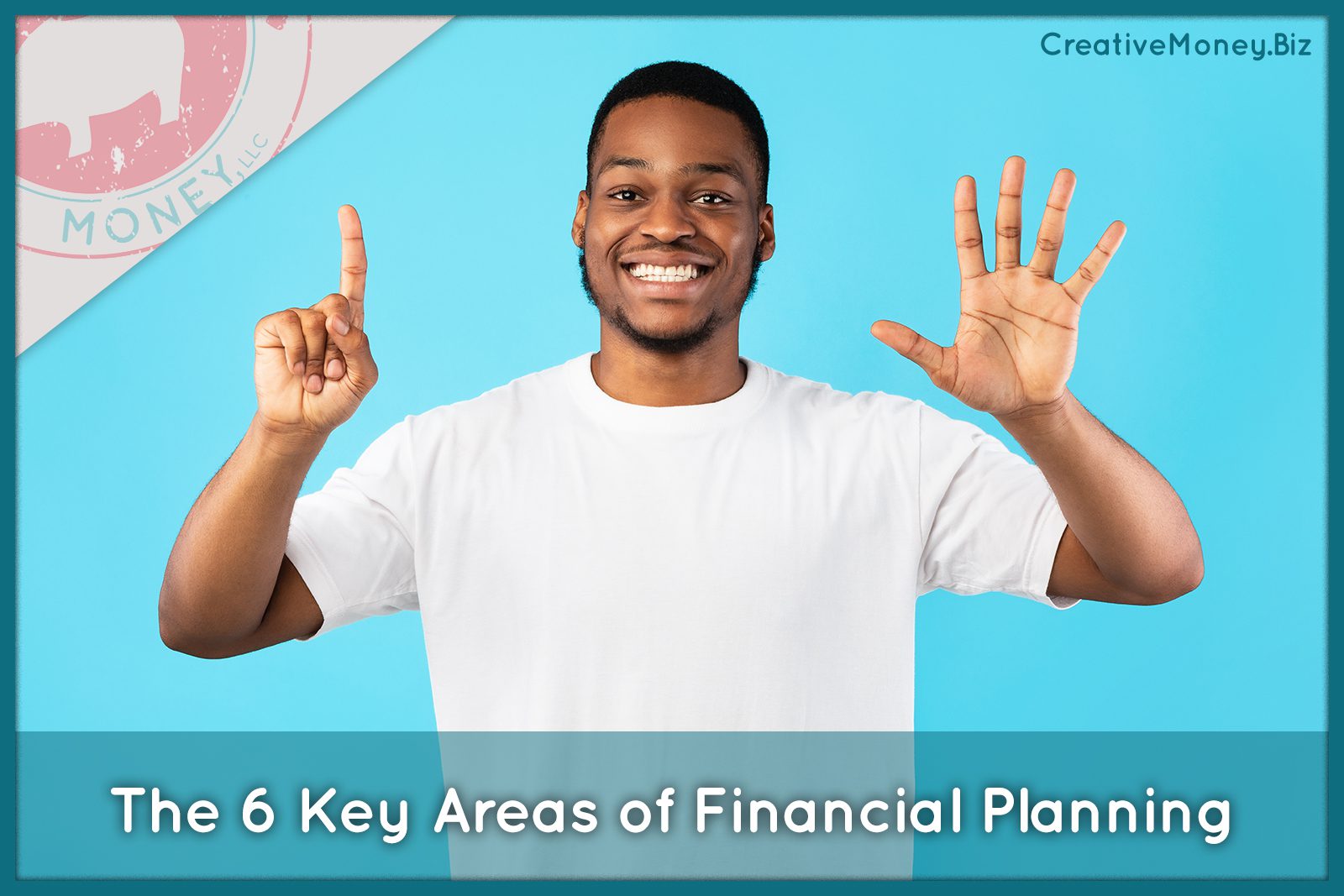 Have you ever noticed that money tends to disappear unless you pay attention to it?  It's true.  (It's that dreadful feeling we get when we look at our bank statement at the end of the month and think, "Where did it all go…?") That's why it's essential that you have clarity around what you want your money to do for you.
There are six areas of financial planning. To be really on top of your money game, you need to find clarity around all six areas. As you dig into each, you may discover that you need help: help understanding your options, solving problems, reaching goals, or executing on a plan. And that is when you may need a financial planner.
Your cash flow is the financial engine for the rest of your life and dreams.
Click To Tweet
But before you can answer the question, "Do I need a financial planner?" you have to start getting clarity around what you want and need in these areas. So, let's take a moment and look at what clarity looks like for each:
#1 Your Current Situation
This is your financial foundation and everything that is happening now. Usually this falls into three categories: debt, cash flow and cash reserves.
Debt — Given what debt you have, when will it be paid off?  And, are you cool with that?

Cash flow — Are you making the best use of every dollar that comes into your household? Do you manage to keep any of it from leaving your household?

Cash reserves — Given an emergency situation, what is the amount of cash (not credit) you could lay your hands on?  What would you like to have?
Any basic finance book can give you some clues and guidelines around what your numbers "should" look like — but keep in mind that each situation is different. For example, there is what we think of as "good" debt and "bad" debt; there are people who like to plan where every dollar will go and those who love flexibility; and there are people who want a year's salary in reserve and those who feel comfortable with just a few months.
When to ask a financial planner for help: If you need help understanding your current situation, or if you need help making a plan to reach a goal (like paying down debt or creating a cash reserve), a financial planner can help. I find that lots of people with new babies or new house payments find this extremely beneficial because as you transition into a new phase of life, you want to make sure you have balance between the stuff you have to do and the stuff you want to do.
And BTW, I usually spend a lot more time here, than in say, the risk management area, because so much happens here. Your cash flow is the financial engine for the rest of your life and dreams.
#2 Risk Management
This is a combination of what risk you're willing to take on in certain situations versus the risk you want to transfer. As a financial planner, the types of risk I tend NOT to comment on are health, personal liability, home/renters and auto, mostly because there is so much nuance in designing those policies, that you really need to defer to the experts – your Property Casualty agent or a Health Insurance consultant (who people don't usually bother with unless they are self-employed or preparing for retirement). So, what's left?
Disability — Disability is the risk that something happens to you so you can't work and produce an income. When you are injured on the job, that is covered by worker's comp. If you are injured elsewhere, that is covered by short- or long-term disability insurance. Many people receive coverage through their employer. You can also acquire your own personal policy, but there is a limit to how much you can cover your "proven" income — usually the limit is around 67%.  Statistically, disability is one of the most likely risks to occur.

Life — We all know about the risk of premature death, but most of us don't think about it until we're starting a family… which is okay.  I find that most people drastically UNDERestimate the amount of money their loved ones will need if they unexpectedly die.  It's not "just" about paying off the mortgage!
When to ask a financial planner for help: Clarity here is about understanding what you would like to see happen if one of these events should happen, and then making sure coverage coincides (I call it matching numbers to wishes).
#3 Goal Planning
What are your big goals? Chances are, they have a price tag attached to them!  Sending children to college, retirement, starting a business, buying a second home… they all require careful planning from a financial standpoint in order to make them happen. Dream big and then ask yourself what you need to get there.  No matter how young or old you are, there's still time to make it happen with careful planning.
When to ask a financial planner for help: Another place a planner matches numbers to wishes is with short-term and long-term goals — things like college and retirement are the traditional "go-to" planning goals, but I also like to factor in new homes or home upgrades, remodeling, new cars, travel, maternity leave and sabbaticals. Clarity is thinking ahead about what you would like to spend your money on…I am always thinking ahead for my clients, trying to identify what time frame? What dollar range?  And what savings can you do between now and then to fund it?
#4 Investment Planning
I think people get too caught up in things they have no control over. The market goes up, the market goes down… the market will be higher 20 years from now than it is right now. The trick is to invest for the timeframe in which you need to access the money. That's it.
When to ask a financial planner for help: The key piece of clarity here is, what money do you need short term… or in the next 2 years? Or in 3-7 years? What money do you need 7+ years from now? Once you know that, a financial planner can help you choose the right investment products or vehicles to ensure you have that money available when you need it.
#5 Tax Planning
Financial planning is not about tax preparation. Doing your annual taxes is reporting on what has already happened, and you still may need a CPA or tax preparer for that. Tax planning when it comes to financial planning is asking the question: how can we minimize taxes going forward? And, given the cost or benefits, do we want to?
When to ask a financial planner for help: Many people get confused between their marginal tax bracket (your income given the IRS range), and the effective tax rate, the literal amount you're paying on each dollar that you earn. A financial planner can help you determine the difference and plan to minimize your tax burden as appropriate.
#6 Estate Planning
Financial planners don't do actual estate planning; we're the ones that nag you to go see an attorney!  But we're also the ones who see what can go wrong if this stuff isn't organized. Here are a few things you need clarity on:
Beneficiary designations — did you know that regardless of what your will says, a beneficiary designation is actually the legal directive, not the will? So, if your beneficiary designation on your 401k is your ex-husband, guess who gets your 401k, regardless of your current will?

Health care directives + POA — these are the documents your loved one needs in case you, ahem, don't die….and hugely important, especially for life partners who aren't legally married.

Basic will — this document covers the distribution of assets that aren't accounts (homes, jewelry, kids…)
When to ask a financial planner for help: Financial planners can help you figure out how to create your legacy and how you want to protect your assets for the next generation, though you will need an attorney to create a trust or other vehicle to deliver the assets.
Ready to find clarity in the six areas of your financial life? These areas don't all have equal weight, but to do your due diligence and make sure nothing throws you off track, it's worth exploring each. If you'd like to take the next step, you can always start that process here.