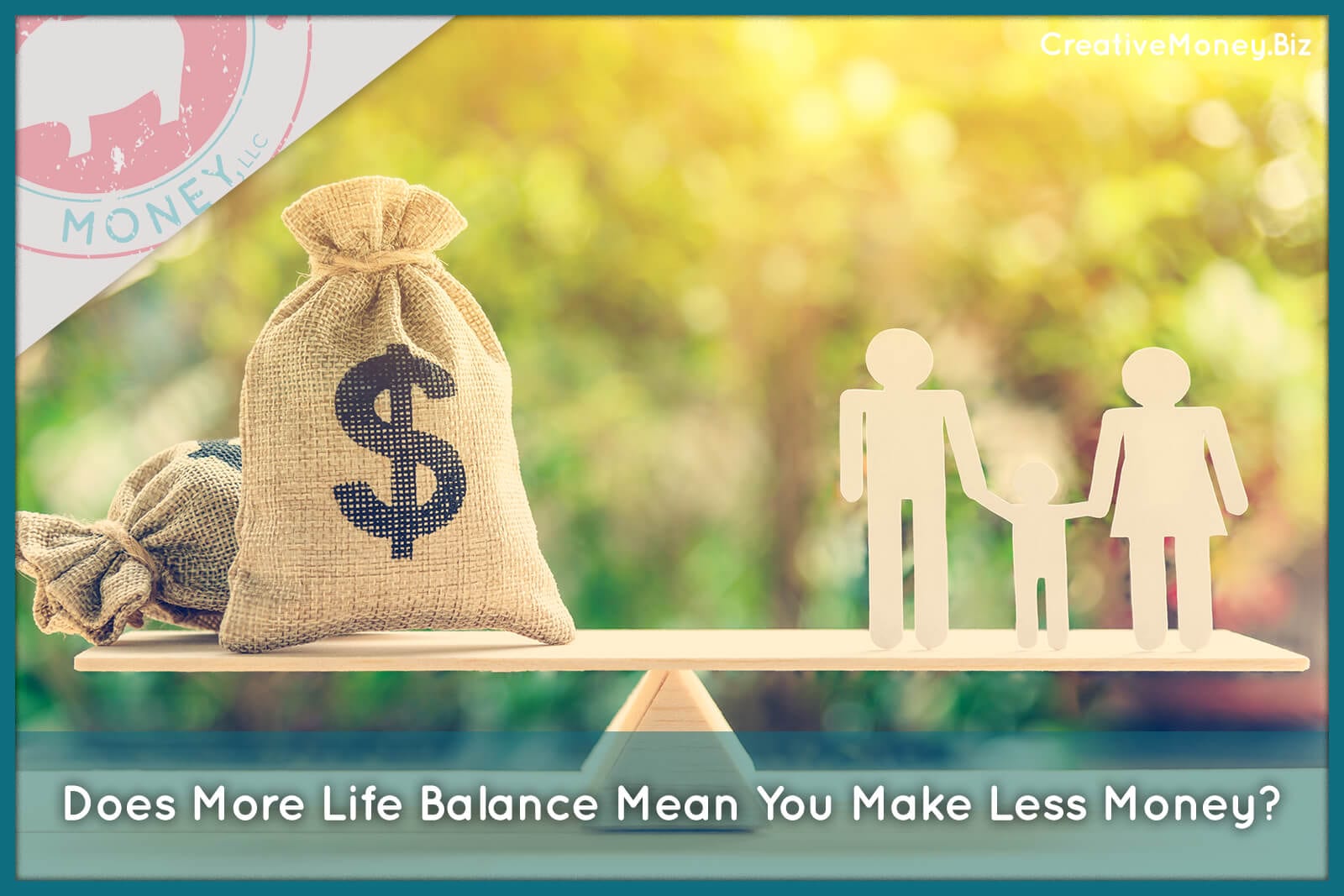 In my last post, I talked about Dick and Jane's awesome, unique and creative vision to replace Jane's income in five years. But many times, when I am talking to clients, they start with the idea that they can't have life balance AND money. That to get what they want they have to give up something. Not true. Or maybe it feels true, if that's what you expect. Sure, you might have to create a five-year plan…but what's wrong with that?  Does anyone think of anything they want and then magically get it right away? The more likely scenario is that people learn to tolerate the dissatisfaction–for years–and then don't mention it to anyone until they are ready to explode. Or start losing their health. And then the decision becomes a must-do-now-or-die kind of thing.
Many times, when I am talking to clients, they start with the idea that they can't have life balance AND money. That to get what they want they have to give up something. Not true.
Click To Tweet
Earning or Culture?
Would it surprise you to learn that one of my clients who works for Google is going to get about seven months of maternity leave? And Gates Foundation and Microsoft have some of the most progressive leave and work weeks policies that allow for balance? This means that some companies out there are sensitive to life balance and try to build it in for their employees.
(Side note to clients: I am never talking about only you. I wouldn't do that. My anecdotes reflect numerous client conversations so if you think this sounds like you, it's because you said something that I hear all the time. It's not "just" you. And I love you, you know that, right? Okay.)
That means that if someone isn't happy at their job, it might be more of a matter of company culture. Why not assume first, before you decide to reduce your income and compromise your standard of living, that you might be happier at a company that doesn't expect you to be on call 24/7? Or maybe that offers work that gets you a little more interested? Or whatever specifically makes you dissatisfied with the status quo?
It's Not You, It's Me
Many clients can't actually pinpoint the specific policy or attitude that prevents them from living a more balanced life; rather, it's a low-level, constant state of anxiety… of checking emails impulsively and never feeling "off" even though no one has told you specifically that you need to be "on."
A suggestion I heard recently was to make a list of things that you like and that you don't like about your current job – and then work on the things you don't like. A colleague of mine, Beth, shared how she was exhausted by Friday, so she decided to stop having meetings or scheduling phone calls on Friday. She didn't mention it or warn anyone – she just stopped being available.  And you know what? No one noticed. Now, I am going to get on my soapbox about boundaries for a moment. What Beth did was perfect – she identified her boundary and made herself responsible for keeping it. Sometimes I think people announce their boundaries… like "Just FYI, I won't be available anymore to meet or chat on Fridays," and then get mad when other people don't respect the boundary they communicated. Guess whose job it is to manage your boundaries? YOURS. What everyone else does is their business. And I have noticed in my non-scientific, observations that if you have issues with boundaries, you miiiiiiight have issues with money.
Lots of people think that they need to change their entire career – and a lot of clients think they will feel more rewarded by working for a non-profit (and for less money), but that isn't always true. Sometimes with the administration of the non-profit, you work twice as hard, make half as much with MORE stress and lose sight of your purpose. There is extraordinary burnout in non-profits. I was a non-profit fundraiser during my undergrad and right out of college until I started my master's degree, and I realized I connected so much more easily with the philanthropic vision as a volunteer…when I didn't need to deal with the gritty underbelly of back office operations.
Stress with a Side of Stress
Did you know that the number one cause of stress in American is….lack of money?  So, if you decide to make less money, you won't be less stressed; you'll simply be stressed about different things. (BTW, I don't mean to be indelicate…but struggling with job stress and making good money? Western world of privilege problem).
Before you decide that making less money in your career is the only thing that will make you happier, less stressed and give you more balance, decide what balance looks like. Does it mean having enough energy to exercise every day? Having a little down time in the afternoon? Try implementing some "balance initiatives" before you completely overhaul your work life. You might be surprised that your current employer doesn't mind at all that you're gone two hours in the middle of the day to work out. In fact, no one may notice.
Most of the time, when people say "life balance," it means that they are frustrated with their current lives because they aren't doing something they want to fit into their ideal week–probably because they feel too overwhelmed by work. But you know what? Just because to have extra time to do something doesn't mean it gets done. Can you take responsibility for taking better care of yourself BEFORE you change your entire life around?
Genders Again…
And yes, most of the time when I hear this thought of reducing income in exchange for balance, it's a woman saying it. I participated in a panel for equal pay for Lean In Seattle, and I started noticing the money messages and confidence gap between men and women.
Recently, one of my male clients started his own business. It wasn't because he wanted life balance (although he might get more of it, working for himself); it was because he knew he could make MORE money working for himself than he could with his existing employer. I was struck by the difference between the message I hear when men leave employers versus when women leave employers.
I DID recently talk to a male client who was going to accept a job for less money to achieve more life balance–but his wife was going to start working again to make up the difference. You see, she had not been able to apply for a job for years, because his high-pressure job forced them to move every few years. Now that they have done a great job of saving his high-pressure income, they can downshift a bit and balance the breadwinning workload.
I am all for more balance. And obviously, I am all for creative ideas to get you to where you want to go. But I am also about resource building, and for encouraging people to expect more. Get life balance AND make great money. Those two ideas aren't in conflict.
What Can You Do Now?
Check:
Company culture
Your assumptions about employer expectations
Your boundaries
Your vision of life balance and current efforts
You might be able to get closer than you think without giving up anything.