This week's post is written by guest blogger, Jessica Larson, SolopreneurJournal.com
The coronavirus pandemic left many of us with a feeling of fear unlike any we've ever experienced. Faced with a new illness no one previously knew about — one which still poses plenty of uncertainty — we've been forced to change our lifestyles drastically to stay safe and secure.
Making matters worse, health concerns bring with them another kind of worry: financial problems. With tens of millions of Americans filing for unemployment and a recession officially underway, economic uncertainty abounds. 
It's easy to feel out of control. But you can still take steps to remain safe and solvent during this crisis.
Dealing with the loss of income
Many employers abruptly shifted to remote work when the pandemic began, but others were forced to lay off or furlough employees. If you were unable to keep working, consider taking these steps to mitigate your financial losses:
Apply for unemployment benefits ASAP.

Ask your employer or HR rep if any financial assistance programs are available for employees on furlough.

Check your bank balances so you know where you stand; if you have a cushion, put it aside as an emergency fund so it doesn't accidentally get spent.

If you haven't already done so, talk to your lenders about any programs that may allow you to postpone payments.

Take a good look through the

CARES Act

and your state government programs to see what you qualify for in terms of financial relief or assistance.
Once you know where you stand financially, create a budget so you can realistically make ends meet until you return to work full-time.
Review your insurance policies
Now's a good time to review your insurance coverage to see if it includes loss-of-income benefits. Once you do that, review the rest of your policies to see if you've got the coverage you need in other areas. 
If you're carrying too much coverage, you can scale back to save some money. If you've got inadequate coverage, you can adjust your policy and/or purchase any other plans that might help. To defray sudden repair costs, consider taking out a home warranty to cover big expenses insurance doesn't.
Reassess your work-from-home situation
If you've been fortunate enough to maintain your job by working remotely during the past few months, it's time to reassess your workspace situation. Working on the couch or your bed won't cut it for the long term. You want to make sure you're productive enough that your employer realizes your value, especially if they take a financial hit themselves and have to make hard decisions down the road on which jobs to cut.
Now's the time to set up a proper long-term home office. Even if your employer plans to reopen, it's likely there will be social distancing guidelines and, possibly, split schedules. If you don't have a home office, see whether you can clear out space for a makeshift office. 
Declutter a spare bedroom or empty out a little-used closet. You might even go so far as to remodel your basement or build out a spot in another area of your home. To relieve the cost burden, ask your neighbors if they'd be interested in cleaning out their homes, as well, then share the costs of a dumpster.
Find a side hustle
If you're unemployed, finding a side hustle can be a lifesaver. But even if you're working, with widespread shutdowns, things can change in an instant. Why not generate a side hustle, anyway, to give yourself a financial cushion for down the road? Here are some ideas:
Put your tech skills to work and develop apps. With mobile ordering and home delivery becoming so popular, there

is a

huge demand for on-demand apps

.

Become a marketer and post content for businesses on their blogs and social media accounts, or write press releases.

Begin a landscaping or home-repair business.

Become the grocery pickup-and-delivery person for households in your area.

Open a consulting business. You can easily run this type of business remotely with little overhead. Market your skills, mine your network and connect with clients.
Another possibility: If you've cleaned out your house, you may have found numerous belongings you have no use for — but many thrift shops have temporarily stopped taking donations, so why not sell your stuff online? The COVID-19 pandemic has taught us that you never know when things will change and how we'll be affected. Starting a business gives you a level of independence and a secondary (or primary!) income stream to help you get better prepared for the future.
Going into the fifth month of this health crisis has taken its toll on many people. While you're busy pursuing strategies to stay safe and solvent, be sure to make time for your mental health, as well. Find a relaxing activity — walk, jog, birdwatch, take a drive without shoes, or do some work in the garden — whatever it is that gives your mind some relief from the burdens you're carrying.
Hopefully, we will see a swift turnaround in the near future with downward trends in cases. But even if we don't, being proactive now will ensure you're in a better position later.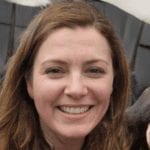 Bio: My name is Jessica Larson. I'm a married Midwestern mom and a solopreneur. I create online courses for students, and I've started and run several other businesses through the years. My goals are to support my family while still actually spending time with them, to act as an entrepreneurial role model for my two daughters, and to share what I've learned through The Solopreneur Journal.