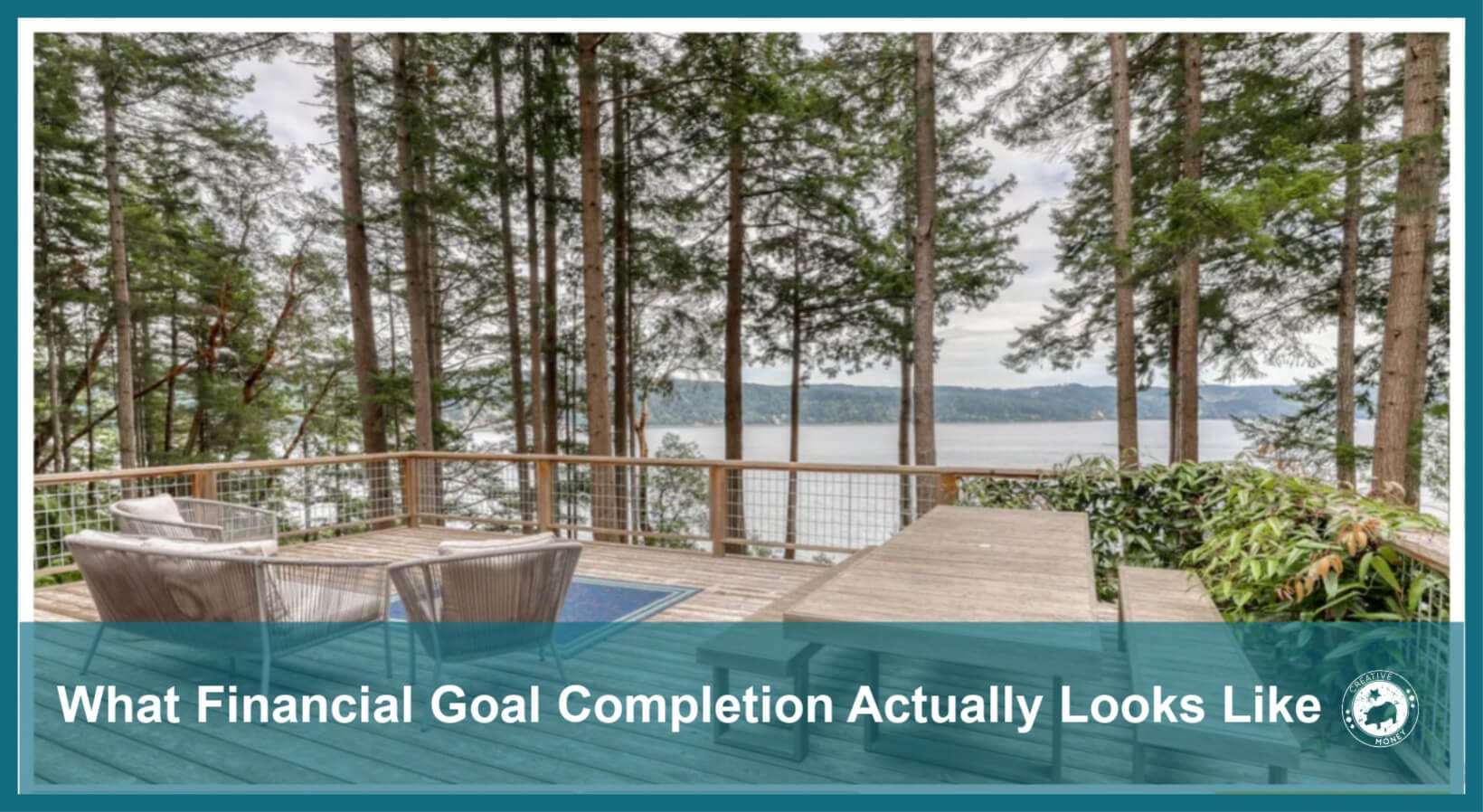 It's downright thrilling to watch clients implement on a financial plan and reach their goals! Now, you might think…wow, someone increased their savings into the 401k, that's UH-MAZING MINDY!!! (not). Okay, yes, I'm a bit of a nerd…when someone pays off debt, or achieves a new level of confidence in their finances, I admit, that makes me happy. But what my clients Erin and Adam did, that's some next-level stuff. 
I am always mapping out hypothetical scenarios around rental properties, vacation rentals, etc. I understand that life gets in the way and the best intentions are swept aside with family and work demands. That's why financial planning is alllll about adjusting and adapting. But here's the thing…Erin and Adam actually WENT AND DID THE THING. Vacation rental found, bought, whipped into shape and ta-DAH! All in record time, too. I was so thrilled when I stalked their listing online, I forced them to tell me all about what they went through to get this thing going.
Mindy: What inspired you to purchase a vacation rental home?
Erin and Adam: Growing up, we both were lucky enough to have special spaces to escape to with our families. For Erin, it was to a modest "camp" in the Adirondacks, where they boated and swam all day, set off fireworks on the Fourth of July, and biked along dirt roads. For Adam, it was a rustic log cabin in Virginia farm country, an hour outside of DC. Both of these places provided escapes from the city and gave us the opportunities to be together as a family or to host close friends. We wanted this experience for our kids…to get out of the city. And living in Seattle, we wanted to be in a place that really had the best of the water, mountains and forest that is quintessential Pacific Northwest.
We were also intrigued by the idea of investing in a property that could both enhance our lifestyle and family time and also serve as a short-term rental to offset the cost. We did not know when we would be in the right financial position to make a purchase like this and so we used some of our consultation time with Mindy and Creative Money to work through the steps needed to get to this goal, as well as trade offs, so that we could understand what we could afford without seriously impacting our plans around saving for education and retirement.
Mindy: Why did you choose this location/property?
Erin and Adam: We both love to be near the water, and being surrounded by lakes and the Sound is one of our favorite things about living in Seattle. Although we knew it would make finding a home a lot more challenging, we made having a waterfront property our primary criteria as we started looking in June of 2018. We spent the majority of the summer visiting Whidbey Island, and totally fell for it. The problem was we couldn't find the right place on the island and near the water at our price point. Whidbey is (rightfully so) a very popular place, and so the homes we were seeing were too small (for us to be there with guests) or major fixer-uppers (more than we could handle logistically with two small children and demanding careers).
Feeling a bit frustrated by what we were seeing on Whidbey, we began to flex our search field, and started to see places on the Hood Canal and Olympic Peninsula that looked really interesting. We had not spent much time out there, and worried it was too far, too remote, and too hard to get to. But, as we visited, we fell in love with the feeling of being totally immersed in nature and found the trip out there was much more doable than we expected (2-2.5 hours with or without a ferry).
When we found a beautiful log cabin on high-bank waterfront we got pretty excited; when we arrived at the property we were blown away by the towering pine forest, expansive views of the bay, and a private beach covered in oysters. The home sits on 5 acres above Dabob Bay on the north Hood Canal and was constructed in 1994, so over 80 years younger than our Seattle craftsman home. We loved the interior with its exposed logs, vaulted ceilings and huge professional kitchen, play attics and secret hiding spaces, plus boundless forest exploration for the kids. This was a lot more house than we had bargained for, but we instantly saw what a great Pacific NW playground this would be for hosting friends and family; and would hold appeal to guests wanting to rent their own retreat for the weekend.
The woods and rocky beach left us feeling like we were totally alone in nature. We were excited to learn that much of the surrounding area had been protected from future development, and so the idea of being able to own a place that could remain so naturally untouched added a lot of value in our minds.  We were also proud of the fact that we weren't buying and trying to rent in the same typical rental markets (e.g. Seabrook, Suncadia). It felt like a challenge to pave our own way.
Mindy: Did you buy as-is, remodel or build? Tell us about that process and what you learned along the way.
Erin and Adam: We bought as-is. The fact that the cabin was incredibly well-built and modern, yet rustic with personal touches really sold us. There are fun nooks and hidden play spaces to occupy the boys, and it was a welcome challenge to set up the space to both fit the needs of our family while also predicting the needs of multi-family renters. We decorated from a high/low mentality, for example we bought live-edge tables hand crafted from a local craftsman, a large Weber grill, and local art, yet knew better than to buy fancy dishware or bedding that would face wear and tear. We are doing minor improvements, such as supporting the deck to accommodate a hot tub, and our only major planned project over the coming years will be revamping the staircase down to the beach.  
We underestimated the amount of time and money that we would need to furnish and supply an entire house. We had two date-night trips to Target for kitchen and home goods, where we filled four shopping carts! This was slightly to moderately embarrassing, but highly efficient. We also spent time taking trips to consignment stores for finishing touches to our mid-century modern/nautical décor.
Mindy: Do you use a property manager, or rent by owner? Why did you make the decision to go that route? How do you market it?
Erin and Adam: We use a property manager through a company called Vacasa.  Because we live two hours away and have two young toddlers, we did not want to be the people addressing rental plumbing issues at 1:00 a.m. from afar. Vacasa handles all bookings, guest relations, and marketing. They post the listing on many websites, including their own, Airbnb, VRBO, Homeaway, etc. so we have a wider online presence.
Mindy: Any tips or lessons learned that you can pass along to a potential investor thinking about getting into the vacation rental market?
Erin and Adam: Permitting for rental properties can take a LONG time, depending on the County! We waited almost six months before we were authorized to rent, and the application process itself can be lengthy, arduous and expensive. Try to submit your application ASAP after closing if you plan to rent, so you can capitalize on rental income sooner. Obviously investing in a vacation home that has solid four season rent appeal is a great move – we are *hopeful* ours will hold that appeal, but time will tell!
Think about how you would want to manage the property. Do you want a part-time job in managing the rental, repairs and cleaning, or do you want to outsource to a management company? You may find that even with a management company, you spend a lot of time and energy thinking about the property and handling maintenance or repair tasks. Be honest with what you do vs. do NOT want to tackle yourself. Also consider whether you will have steady access to services like cleaning and repairs nearby.
*****
Mindy: I love their recap of the process…and I appreciate how they balanced their approach. You notice they ended up loving the location — one that wasn't even on their radar when they started the process? I think this adaptability is KEY to financial success. 
Overall, buying a vacation rental isn't for everyone, but you can see how this decision rose up from family values. That's another key to successful financial planning–aligning your values to your money. And here's the pitch: do you want your money to be in alignment with your family's vision? Then you definitely should chat with me…here's how to start that process.
Oh, and definitely go and book your trip at their amazing retreat home!