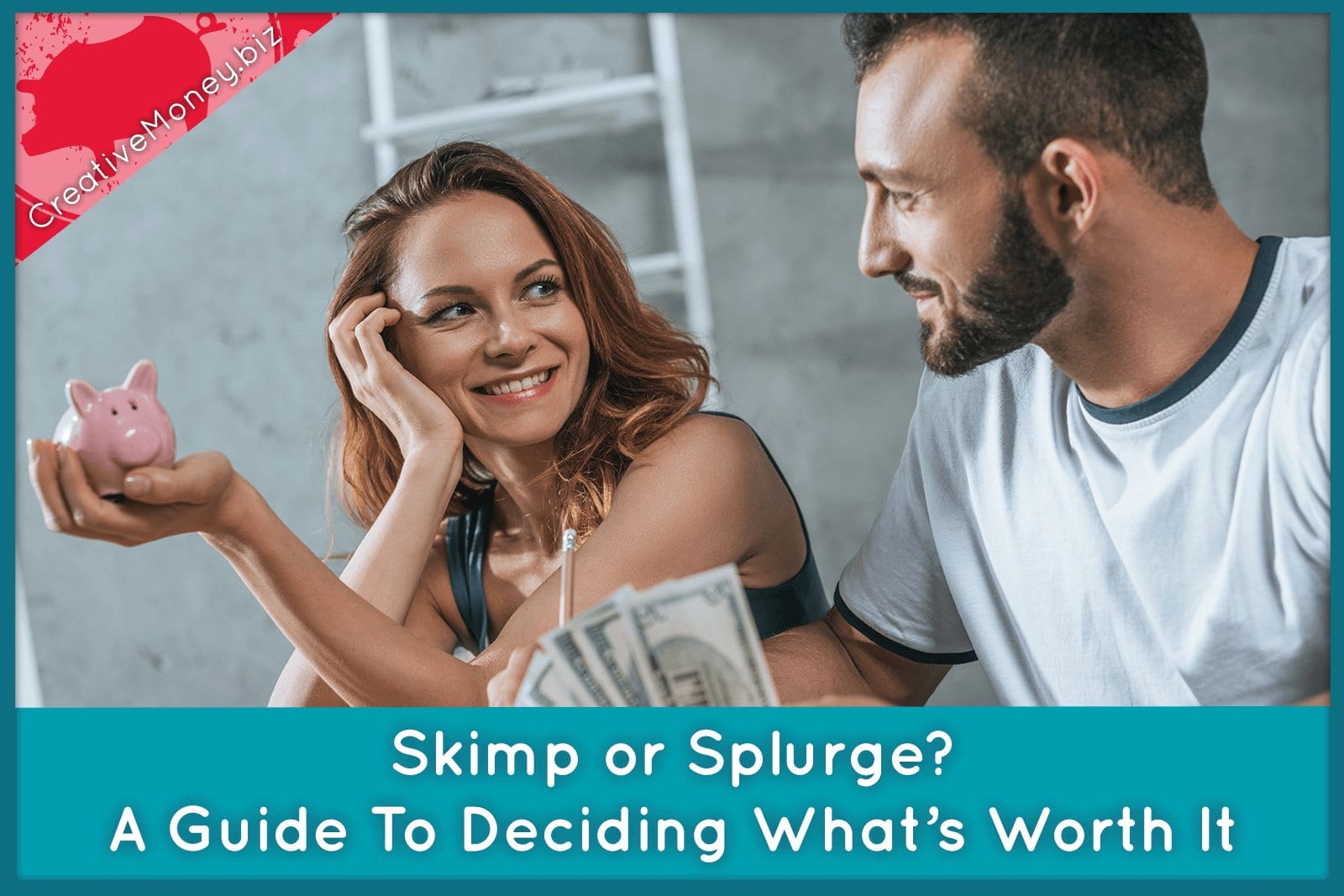 Life is expensive.
Sometimes, it can feel like we're stuck in a cycle of working harder only to have to spend more money on life's necessities and occasional luxuries.
Click To Tweet
When you start falling in the hole, it can seem like the only way out is by holding your money as close to you as you can. But a life without being able to spend a little side money for your own enjoyment doesn't sound like an exciting life at all.
Instead, there are better ways to be more proactive about the amount in your savings account. Fixing your spending to prevent yourself from falling into debt can start with one simple question: When is it worth spending money on a "luxury" and when does it make more sense to save?
This guide will break down the answer for you. Keep reading to learn how to decipher for yourself when it's time to skimp or splurge.
When to splurge
Splurging on something you really want can be exciting, terrifying, and frankly pretty dangerous.
In order to responsibly decide when it's time to splurge on an item, consider a few key questions:
Is this item important to your health and wellbeing?
How often will this item need to be replaced?
Does this item add important value to my life?
If you can answer "yes" to any, or hopefully all, of these questions, that's when you know it's worth it to splurge.
Your house is an important investment to make in your life that answers "yes" to all of these questions. Having shelter is an essential to life, and it's not often that you will need to "replace" your home. Splurging on a house doesn't mean throwing all your money into it, but it does mean that this is a big decision you should be cautious with. You may not even know if you are ready to buy a home and renting may be a better decision for you. Take the time to do a ton of research when it comes to your shelter.
Once you have a place to call home, you're going to want to start filling it with furniture and decor. Sometimes spending money on quality items here is important. For example, you may not realize the health risks associated with a bad mattress. For one thing, you'll be missing out on better sleep which is vital to your physical and mental wellbeing. A bad mattress can also be responsible for affecting your posture, leading to increased spinal pain and inevitably a few chiropractor visits. You only need a new mattress about every decade, so it's worth it to find the best mattress instead of skimping out on your sleep.
Quality couches are also important to your home's health. It may be easy to wipe off and refurbish an old table you picked up from a yard sale, but a couch is a different story. Soft, fabric material surfaces typically harbor tons of dust mites and dirt underneath. Used couches also tend to have wear and tear in the cushions. You won't be replacing your couches that often, so it's worth it to splurge when you do.
Some items you'll want to splurge on may not have anything to do with your health at all, but that doesn't make them unimportant. Luxuries like a decent car that won't need to be taken into the shop every other week and a nice camera to practice a hobby that makes you happy are worth saving up for. Just don't go splurging all at once. Be smart and intentional about your savings over time.
When to skimp
It's a tough question to ask if you truly need something that isn't an essential to life. Of course, you probably don't really need it, but if you can't reward your hard work with incentives to keep you going, then it feels like all of your work is for nothing.
When you're trying to decide on whether you should skimp on an item or not, don't ask yourself if you need it; rather, ask yourself if there is a way you could find a cheaper option. There are several ways to do this.
Scour the internet
Shop bargain stores
Buy used
Not all "luxury" purchases need to be of "luxury" quality. If you're looking for new home accents and decor for example, you can find cheap options at bargain stores instead of paying hundreds of dollars. A quick DIY weekend project can help spruce up older or cheaper quality pieces and make them look brand new.
Other home investments like tables and dressers may not always need to be brand new either. These can easily be picked up from yard sales and quickly refurbished to give them a new life.
Tips for smarter spending
Deciding what you will save your money on and where you want to spend it is very personal to your own preferences and desires. If there are some big ticket items on your wish list, prioritize them and decide what truly matters to you and what can provide you the most value by putting your money into it. A computer for example is a luxury item that you may want to spend more money on. Buying new will mean the processor is in better shape, and this may be a vital component to you earning more money if you work from home and need a high-quality computer.
Once you decide where luxury items sit on your list, make a plan to save money for them by building a stronger financial plan. An important step to starting this is finding a budgeting method that works best for you. Maybe an app tracking your spending is what works best for you, or you may prefer taking a pen to paper to map out your expenses. Whatever your method is, define it early so you can manage your spending.
On a larger scale, you should be diversifying your investments. This means you should expand your investments to more than just the stocks. Real estate can be a great investment. People will always need a place to live after all.
Finally, be fiscally responsible and act your wage. Don't try to boast and impress when it's not necessary. If you buy your art pieces from a bargain store down the street and frame them in a decent frame, no one will know the difference from hundred-dollar art pieces. It's all about knowing when and how to get creative.
Author bio: Laurie Larson is a freelance writer from Durham, NC. She hopes to inspire others to live happier, healthier lives.