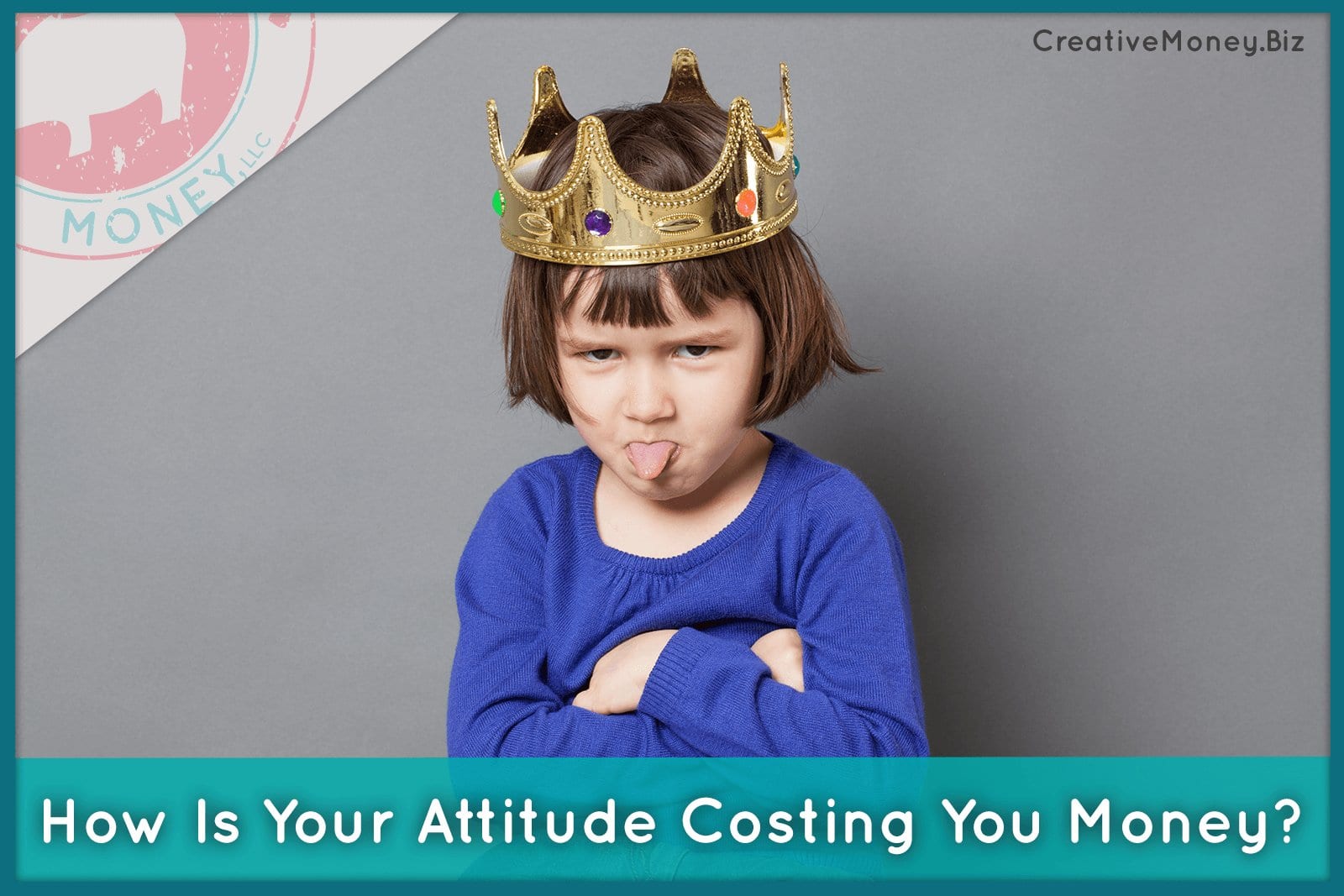 Money and your attitude go hand-in-hand. Maybe ten years ago, if I'd said this in a room full of people, I would've gotten a lot of blank stares or been laughed off the stage.  But nowadays, I think more people are willing to connect the dots between their thoughts, their energy, and their money.
When I talk about money, attitudes and energy, it's usually within the context of your chakra system — the ancient Indian system that describes the seven centers of spiritual power in the human body. In fact, I did a whole series on chakras inside my Money Chakra program and wrote a series of blog posts explaining how each one of the chakras relates to your money energy. (You can download the free eBook that describes each chakra and their associated energetic challenges when you sign up for the library of free resources here).
But even if I set aside the whole woo-woo chakra discussion, it's clear that a person's attitude can make or break their money.
Money leaks when you don't pay attention
Your energy, your attitude — whatever you want to call it — it affects how you deal with situations every single day, and how you show up in the world.  And what I often see is that attitude and behavior issues that seem on the surface to have nothing to do with money, often influence our money decisions very directly, and sometimes very negatively.
Take me for example: It's no secret that I consider myself a recovering codependent — a behavior that is about becoming so focused on fulfilling an ideal situation, relationship or thing that who you are and what you want doesn't even play into your decision criteria.  You forget what you actually want and value.  I wasted so much money, time and emotion in pursuit of an imagined ideal that can never be fully realized.
It took me a while to figure that out. Before I was aware of that codependent behavior, I couldn't see that I was wasting money trying to create an ideal situation for others. I would have told you that was money well spent, even though it was spent on things that weren't important to me. I was enriching the lives of others…and then felt even more empty when my efforts weren't reciprocated. If you don't examine what energy you're bringing to situations in your life, you're probably costing yourself.
Money and your attitude go hand-in-hand. If you don't examine what energy you're bringing to situations in your life, you're probably costing yourself.
Click To Tweet
Money attitude is extremely subtle.  It's very rare for someone to work with me and for them to instantly see where their energy is blocked. Instead, they come to me with a specific behavior they want to change.  Maybe they have a shopping habit, buying and ordering things they don't even need. Maybe they spend more than they bring in every month, creating a debt cycle. Maybe they hoard all their money and won't even spend it on things they need. My job, then, is to ask, what is the energy behind that thought or behavior? Again, using me as an example, I used to loan people money or buy them things just because they asked or because I knew they wanted it. Was that a great use of my financial resources? No! But I couldn't change the behavior until I understood the attitude that was behind it.
Awareness changes everything
Awareness allows you to discover how you're responding, and then ask yourself: How can I respond in a way that supports how I want to show up in the world?
An energy self-assessment:
I am going to pose a scenario. Don't get caught up in the language; if you aren't self-employed, or don't work 1-to-1, just change the language to reflect what you do. Imagine an acquaintance contacts you. S/he says, "Your Name, you do That Amazing Thing You Do better than anyone I have come across in recent history and I really respect your skills. I was recently talking you up to a large group I am involved in, and 15 people decided to write checks to you on the spot so they could start working with you. They want you to contact them and get started as soon as possible. And, I think that the other 50 people will start working with you in the next 3–4 months, so get ready."
What's your first reaction? What happened in your body? Anxiety? Excitement? Fear? And what was your first thought after reading this? These things are a really good indicator of how much you fear success. (If you felt no physical reaction, double the number of clients and try again!). And BTW, if you're employed, just pretend a recruiter called you and offered you the perfect job for $X amount of money – and note at what dollar amount you start to feel uncomfortable.
Here are some common reactions:
Overwhelm. "I can't possibly handle that many clients at once!" My client Adam's internal "NO" barrier went up when he couldn't fathom how to accommodate the influx of business.
Defensiveness. "There's no way all of those clients are actually going to work with me; it's going to be a pain in the neck to go back and forth with them!" When one client said this to me, I could actually hear the annoyance in his voice. How dare these (imaginary) people bother him? He reminded me of a turtle pulling into his shell so that he wouldn't be affected by the onslaught.
Self-Consciousness. "I can't do that, I know I am going to screw it up or drop the ball somehow, I'd need to have someone else to give away some of those clients." Client Diana became paralyzed when she felt like all eyes were on her next move and wanted to hide behind someone she saw as more professional than she.
Resentment. "I don't WANT that many clients at once; I would have no free time for myself or my family!" Client Tim actually became angry; how dare all of these (imaginary) people take up his free time?
What was your first reaction? In my experience, very few people pump their fist in the air and yell, "ALRIGHT!" when I pose this situation. Almost everyone has some kind of negative reaction, and that reaction is part of your money attitude. Now stop for a minute…can you think back over your life to other times when this reaction may have happened on a smaller scale and potentially blocked more success with money? Just a thought.
The payoff for playing smaller
When people have a fear of success, they often don't even realize it. They simply see their feelings as a reasonable reaction to a significant change. Unfortunately, if you aren't aware of your tendencies, you can get stuck at the same place, over and over again.
So now that we've identified your reaction, we have to identify the payoff. Believe it or not, everything we do has some sort of benefit, or we wouldn't do it. Even the behaviors that are preventing us from achieving what we want in our lives, or with our money, have some kind of payoff. One way to get at the core of whatever is holding you back is to identify the payoff you get for things staying the same. For me, I had to acknowledge that I was afraid that success would send me right back into the old life I fled from. I was afraid that success meant working 60-hour weeks again. When I finally brought that fear into my conscious awareness, it was just a matter of realizing that 1) success doesn't have to look like that, there are many different versions where I can be successful and still be master of my own time, and 2) I would NEVER let myself do that same thing again, because I am a changed woman.
Identify your payoff
I have a little exercise you can try if you think you might be undermining yourself with your money attitude. I divide a sheet of paper into four sections with the following headings for each:
Things I LOVE about my business success AND Things I HATE about my business success
Things I LOVE about my business failure AND Things I HATE about my business failure
You can replace "Business Success" and "Business Failure" with any two opposites that work in your situation; some of my clients use the term "Having Lots of Projects" and "Having Very Few Projects" that better express the polarity around the specific wall they have come up against. Or maybe the words are "My Career" or other money-related life areas.
The next step is to fill each section with journaling or bullet points. You might believe that you can't think of any reason that you would hate business success and certainly not any reason you would love business failure, right? Guess again. You need to sit with it long enough to get over your initial objections or refusal to allow for the possibility you might "love" something that seems so counterintuitive. Give yourself time to let your mind wander. Eventually, a small voice inside will tell you the reasons why you may not necessarily "love" business failure, but why you might be comfortable with it. Write that down. Once you have one, more will come. Just think about how your life might change with great success or failure.
When I first did this, I was horrified at what came out of me. I knew that the reasons I listed shouldn't be an issue, but until I had used this process to ferret them out, they only existed in my subconscious, unable to be detected through logic and reason. Once I uncovered them, I could then consciously work on them, negotiate with them and reassure myself that I wasn't required to allow the "dark side" of success come with the good.
Next steps
Write down your reasons why your success will make your life better, not worse. I have a list of all of the ways that success brings me MORE time to play, and I keep that posted by my desk. And, monitor your emotional reactions. If you pay attention, you can tell when that internal "NO" barrier gets activated, so be a detective about your reactions so you can notice what triggers you.
If you want to access some tools to help you with this, you can get the free Bbook that describes each chakra and their associated energetic challenges when you sign up for the library of free resources here).