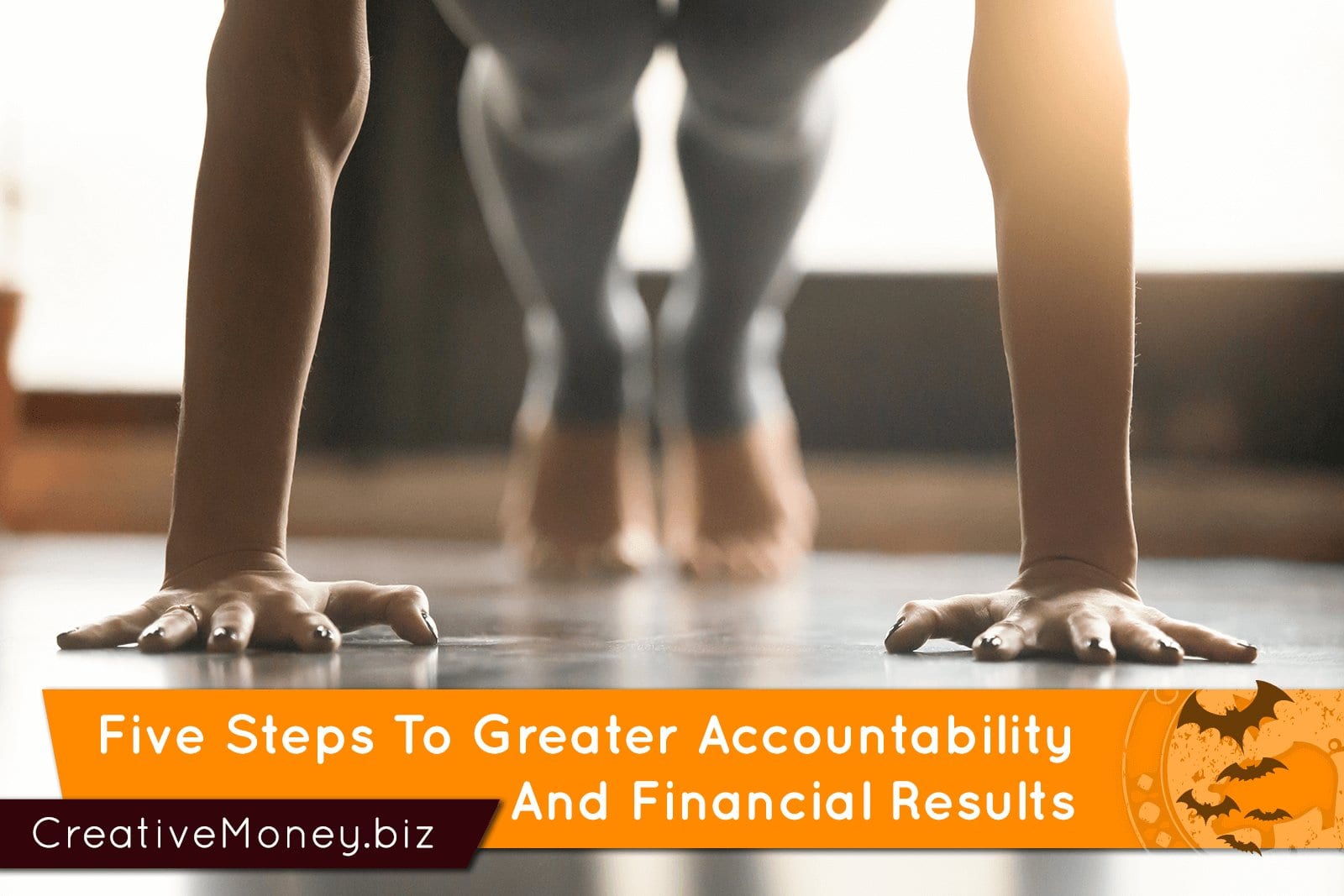 I'm a big believer in accountability.
I'm the kind of person that will never miss a deadline for a client or a work partner, but when it comes to meeting my own deadlines… Yeah, I'm a little more lax.
That's why I know I need some external accountability when it comes to reaching my personal goals.  
It's the same idea as hiring a personal trainer to keep you accountable with an exercise routine, or hiring a coach to keep you accountable with your financial goals.
5 ways to build accountability into your financial goals
When I'm working with a client on her personal or business financial goals, I know that the best kind of accountability is the kind that's built into the process. Different people respond to different things.  One person needs a coach to be accountable to, while another just needs to say she's going to do it, and it happens.
The same way that no two spending plans or budgets are going to look the same, no two accountability plans will be exactly the same. So here are five suggestions for building some accountability into your financial goals:
Practice conscious spending. You've got to be realistic about your budget. If you completely cut out your daily Starbucks habit, chances are, you're going to fall off the wagon. Practice conscious spending to figure out what will work for you so that you have an easier time sticking to your plan. (You can get that free guide from the library here).
Use automatic transfers. If you've decided to put X amount of dollars into a savings account, then automate it! Then you never have to debate with yourself over whether or not to do it — it's already done.
Make it harder to cheat. You may have heard the financial advice to literally freeze your credit cards in a block of ice? It's funny, but it works by getting rid of the temptation to charge something.
Get some support. Remember that episode of Friends where Rachel, Joey and Phoebe were totally broke while Ross, Monica, and Chandler kept inviting them to do super expensive things? (No? Just me?) The point is, you need to find a supportive person or group who gets what you're going through — a friend, a coach, an online community, whatever it may be.
Plan for rewards. When you're trying to change a habit, rewards can be a very powerful thing.
Let's say you are trying to break a daily Starbucks habit, for example. You used to get the reward of the coffee or the treat every day, so you need to replace it with something else. For some people, it can be as simple as putting a colored stone in a vase for every coffee they skip and watching the vase fill up.  For others, it might be putting five bucks in a coffee tin marked "Vacation Fund." And still others might get a thrill from getting the specialty creamer at the grocery store and making a ritual out of having a coffee at home. Whatever your reward, reward yourself regularly.
Whether your accountability comes in the form of a person who checks in on your or a spreadsheet you check off every month, finding the thing that ticks your boxes is key to setting goals you will actually keep!
P.S.  you might find that some of the resources in my free library will help you be more accountable to what you want to happen with your money – you can get access to that stuff here.