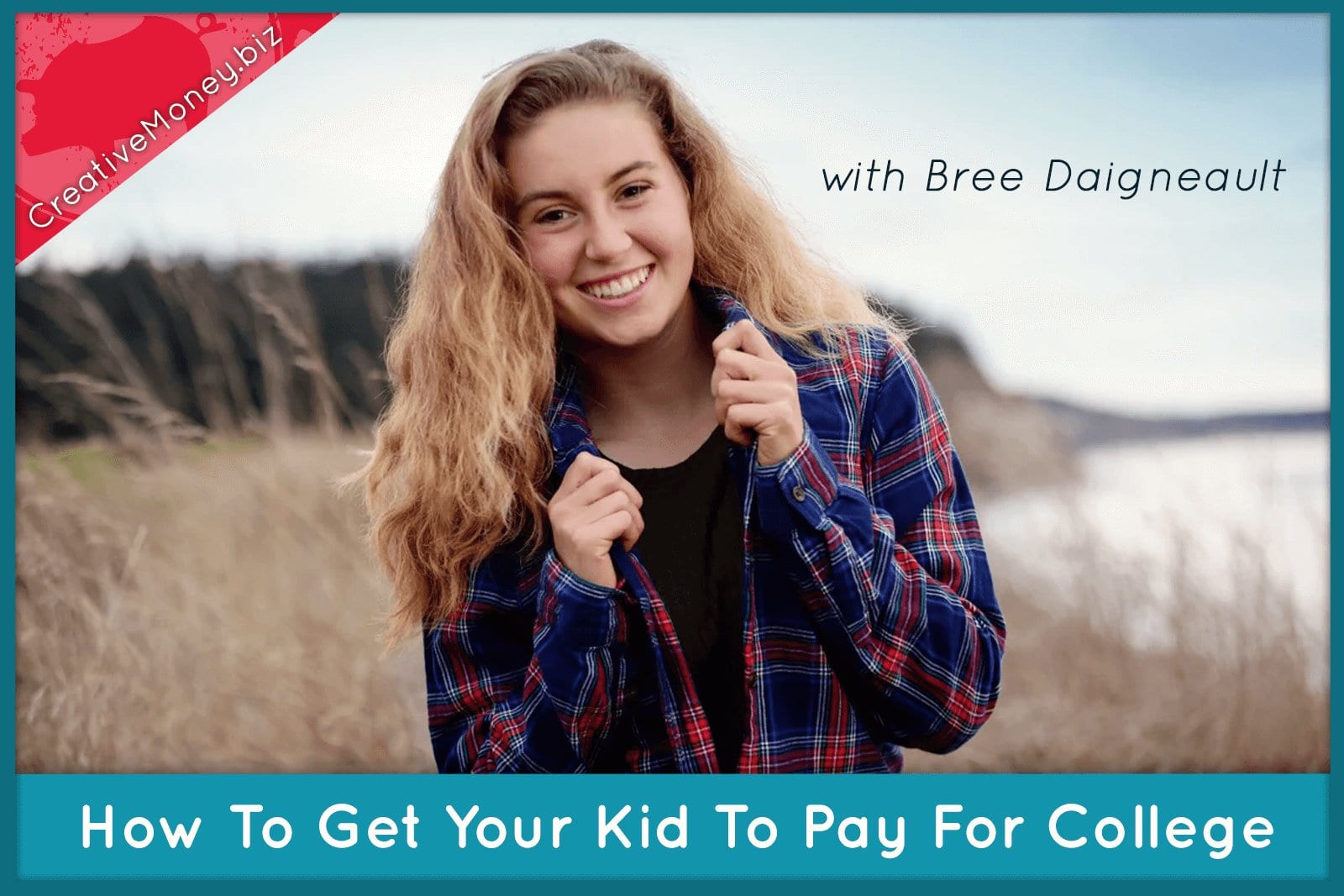 Today I am interviewing Bree Daigneault who is a freshman at Western Washington University.  The reason why she may be of interest to you is because she fully funded her first year of school herself.  That's right.  She worked HARD to make it happen and I couldn't be more impressed.
A few weeks ago we hopped on the phone to talk more about how she accomplished this goal.  Here's what she shared with me during that chat…
I knew that I wanted to go to college. I know that's not necessarily the case with everyone, but once I decided on that, then I started noticing all these horror stories about student loan debt, and I definitely didn't want to bring that upon myself.
I don't want mom and dad to pay for it, because this is my deal, and I want to get through this by myself. I think it'll be more rewarding that way. If I work hard I can pay for my education.  Once I had that little seed in my mind, I got really committed to my goal.  I think my parents laughed it off at first, but then, I said, "No, I'm serious. I totally got this guys. Don't even worry about it."
Then, they were just really encouraging. I mean, as I'm sure they would be, you know?
I had a few groups of friends that they knew their parents were paying for their college, and that was good for them. Other friends didn't have parents who helped pay for college, and they didn't even think it was feasible to try and save money for all for their tuition.  I think that mindset is a mistake, because those friends just seem to quit thinking about it, and assumed that they would depend on student loans.
Setting goals
I really got serious about saving for college after sophomore year of high school, so summer going into junior year I started setting fiscal goals for myself,  I had check in points every step of the way, reinforcing what I was doing.  Those goals weren't necessarily driven by a cost of college tuition, because I knew scholarships would factor in.
My goals were based around what I knew was feasible, but also pushing myself a little bit more. I didn't always meet my savings goal, because sometimes they were pretty lofty, but even when I didn't hit them, I was still saving a ton.
Sophomore year of high school, I got my first job that wasn't babysitting or doing odd tasks or dog sitting. I worked for a catering company. Still do, actually. I am a little bit frugal, so I wasn't going crazy having money to spend. My mentality is more, "Yay, I have a paycheck, I have money to save." Pretty much almost all of my paychecks went into my savings account. Then, with catering, we'd also get tips, so I used my tips as my spending money.
That was really important. It helps that I had that mindset with my smaller jobs, before I started making real money. When I was hired as a dock hand the summer before my senior year, that gave me an even bigger paycheck, but again, also tips, and I was still working catering. I still did dog sitting, babysitting on the side – another odd job was changing a reader board every week. Every little bit adds up.
Each year I had a fiscal savings goal – and each year I hit it.  Things were becoming very real, because I realized that if I win a bunch of scholarships, and if I use every penny in my savings (which obviously I don't want to do, but theoretically), I could actually pay for one year.
The scholarship process
That realization drove me to pursue scholarships.  My high school actually gave us a monthly scholarship bulletin with the new scholarships coming out, what the criteria was, how much it was, the scholarship was for, and when the deadline was. I went through those each month and circled the new scholarships that I was eligible for.
I have a notebook entirely dedicated to college. I think that's a really helpful tip. It is just a regular spiral-bound notebook and I still have it. I have my potential class schedules in it now but when I was in high school, it helped me keep track of scholarships, what schools I was applying for, everything. I'd keep checklists to make sure I was on track for everything I needed to get done.
I applied for 27 scholarships, local and a few nationwide. The local stuff is important, because nationwide I didn't really win anything. But I applied for everything, because if you don't apply you don't get it. This is an important mindset, because even if you think that your parents income is too large to warrant you winning a scholarship, you can sell your story in a way that is compelling to the scholarship provider.
Apply to scholarships like it's your job and put in the work for a scholarship, because spending an hour on a scholarship that gives you $2,000…you're not ever going to find a job that one time you work an hour and get $2,000. I was like, "Wow, I spent not even that much time, and the payoff was huge."
National decision day
Then, national decision day came along. I had gotten into a bunch of schools. To help me decide which university to attend, I made a pros and cons list, again in my little college notebook.
Decision criteria for me were things like class size, faculty to student ratio, location, how expensive it was going to be to get home, school tuition and scholarship offers, school size, school culture, and the biggest one, of course, besides total net cost of college, were the educational programs. Also how I felt on the campus, during the campus tour. I was getting super nitpicky, like how clean is the campus, what are the types of students like that go here? Did I get into the honors' program? Did they have a good honors' program?   Comparing all of the schools, Western just ticked off so many boxes, and it felt homey.
The total sticker price for this year at Western is $23,000, and the school gave me a nice little scholarship that knocked that total down a little more. Another noteworthy tip is don't get hung up on a specific school.  Starting out, I was really hung up on this school in California, which had a phenomenal public relations program, but it was $66,000 a year, and they only gave me a $16,000 scholarship, I would have been paying $50,000.  And, this California school didn't have any real environmental science programs, which is very important to me.
You can't look only at the scholarships and be like, "Oh, this school gave me a $16,000 scholarship. This school only gave me a $3,000 scholarship." You have to consider the net total. I realized yeah, it'd be fun to go to California to study public relations, but that is only part of my focus.
That's important. Picking a school that has a good ball park price range was important as well. Western has a phenomenal environmental program here, and also, they have a strong public relations program (which is now my minor).
Scholarship decisions
Then, here comes the exciting part. At the end of the year, it's like all the hard work pays off, because my high school held scholarship night. All the donors are there, all the local scholarship people are there. They come up one at a time and announce their company and what the scholarship is for and the winner.
I was so nervous, because I spent, just an insane amount of time, like the past five months intensely working towards this goal of paying for my college next year on my own, and tonight I find out if that is going to be feasible. I won a great deal of scholarships, and a wide range – do not discount the $500 scholarships at all, because they all add up. I won three or four $500 scholarships, so if I had only focused on the big ticket scholarships, I would have missed out ~$2,000.
I won nine local scholarships plus my scholarship from Western. I was really proud of myself. And, I am in a pretty comfortable spot for my freshman year at Western.
Another important tip: I wrote everyone a thank you card or a thank you letter.  Western also gave me a little form that I needed to send out to the people I'd won scholarships from so that they could send the checks directly to Western to get applied. I had to diligently check up on that over the summer. There was one where I thought it had looked like they had given my scholarship to someone else, but I caught that, called them, and it turns out it wasn't the case. I really had to check up to make sure that all the scholarships went through.
Future plans
I'm at Western now, just finishing up my first quarter and it's been amazing.  I am still working on the plan going forward.  Right now here at Western is a really great fit for me. I'm learning so much that I can't imagine myself not being here.
One of my initial thoughts about paying room and board going forward was to become a resident advisor for the dorm.  Then, I got here, and I met the RAs, heard what they did to prepare to be one and I realized I can't be an RA and still have a sane schedule. I'm not going to stay up until 2AM doing homework because I need to be super available to my residents. Someone else would be great at that, but I know myself.  I'm going to get my eight hours of sleep, and I'm not going to put myself in this position where I know I'm not going to be able to handle it and it's going to be too stressful outside of the boundaries of just regularly pushing myself to do the best at my personal goals.
Instead, a few of my friends and I are talking about living in a house together next year to cut down on food and housing costs.  I think my scholarships are going to cover tuition, so I am just saving and focusing on the room and board part of the equation.
Then, I'm planning on actually applying for a job – ever since I went on my first college tour I have wanted to be a tour guide. That'll be a steady job and if I got it, I would train spring quarter.  Then, if I'm feeling comfortable, even tacking on another waitressing job or something like that, so I've got a tentative plan.
Another big thing for me, is that I have a really credit heavy major and a minor, so not being here for five years would be really great. I did come in with a good amount of credit from doing Running Start.  This summer I think I'll be taking Calculus at my local community college, just to stay on track. Making sure that I'm graduating in four years and reinforcing that I know that I'm in college to learn and to get this great education so that I can go out and really make a positive impact in the world and have a steady job lined up in the field that I'm knowledgeable about.
I really like to be clear about my decisions, so knowing that I'm going to college to get a good education to be set up to kind of be in the working world but not just being in the working world, but knowing that I'm specifically trained to do this, and I feel like I'm making a positive impact with my work. That's really important for me, especially because I want to go into the marine environmental sector, so knowing that I'm making a positive impact on the environment is important to me.
—
Bree's story is amazing, isn't it?  I think so.  Would you like Bree to serve as an example to your kid and pay for his or her own college experience?  Here are the main tips from her experience:
Set savings goals early on in terms of what you expect to save from your jobs

Keep yourself organized – her spiral notebook was magical in keeping track of everything

Stay in the loop with your high school counselor so you know all of the scholarships coming up

Stay on top of all the deadlines, you can't win a scholarship if you never apply

When accepted to college, factor in your net cost to your decision criteria (NOT scholarship amount)

Be grateful and thank scholarship providers but also stay on top of award deposits
Oh, and Bree gave us an even MORE detailed little checklist of these points (plus how to hack the scholarship applications) with a timeline for each activity to help – you can download that here.